The Empient mobile app was the first of a suite of apps designed to assist in the repair reporting aspect of the social housing market. The initial core feature was to offer a digitalised platform for the reporting of necessary repairs and maintenance from tenants to a housing association in order to reduce the overheads and cost of providing a 24/7 phone line service. 
The features also included a help bot, news and community boards and notifications of the housing association's response in the reported repair request. There was also a web based administration dashboard for reporting and maintaining the platform for the administrators and operators of the housing association. There was also the ability to collect information via a questionnaire feature for example if a housing association wanted a quick way to gather tenant feedback on a local matter. 
"EMPIENT is designed to make life easier for tenants, especially in the social housing sector. It's simple to report Repairs or Antisocial Behaviour, receive Messages from your landlord and feedback your opinions via Surveys or suggestions. If you want to make a complaint or pass a compliment back to your landlord — use EMPIENT. You can upload pictures or video clips as part of any Repair or ASB report. Or use EMPIENT to request your landlord to meet at your suggested date and location."
EMPIENT is "The Tenants App" — your voice. And with your input (via My Account section), we will continue to improve it and make it the best possible app for residential tenants.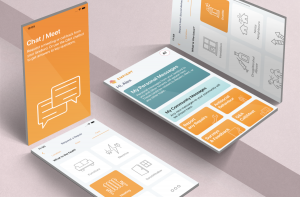 Features
EMPIENT
(1 month free trial)
EMPIENT
(Full Feature List)
BESPOKE
(Optus Homes)
Typical landlord size →
1 ̶ 2,000 units
1 ̶ 2,000 units
2,000+ units
Report repairs
✓
✓
✓
Report emergency repairs
✓
✓
✓
Report antisocial behaviour
✓
✓
✓
Attach pictures & video clips
✓
✓
✓
Receive personal messages
✓
✓
✓
Receive community (group) messages
✓
✓
✓
Integrated Chatbot
✓
✓
✓
Complete surveys
✓
✓
✓
Message landlord re meeting/call
✓
✓
✓
Access message history
✓
✓
✓
Landlords management portal:
✓
✓
✓
Create messages
✓
✓
✓
Create surveys
✓
✓
✓
Send to individual tenants
✓
✓
✓
Send to tenant groups
✓
✓
✓
Store tenant responses
✓
✓
✓
Immediate reports/analytics
✓
✓
✓
Assign internal users
✓
✓
✓
Rent Payment
Optional
Optional
✓
View Rent History
 
 
✓
Schedule Repairs
 
 
✓
Integrated to HMS
 
 
✓
Bespoke Branding
 
 
✓